I attended a wonderful event on Sunday at
Knopp Branch Farm
near Edna, TX. The event was organized by Ali Miller of
Naturally Nourished
in Houston, TX. The event focused on whole food as medicine to keep us well.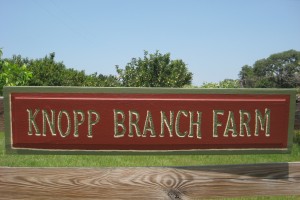 "FARMacy" will focus on reconnecting to sustainable family farms and renewing a commitment to real food. The hands-on educational opportunity will include lectures from Houston's top wellness experts and local food producers.
The day will also feature a community harvested and prepared lunch experience by renowned Chef Monica Pope of Sparrow Bar + Cookshop and Anna Roth, trained chef and daughter of Knopp Branch farm owners Donna and Ernest Roth. The meal will be showcasing a seasonal menu using farm-fresh herbs and produce, hosted at the beautiful Knopp Branch Farm in Edna, Tx.
FARMacy Curriculum
Food As Medicine: Why Food Matters! Learn the role of metabolic function (processing of nutrients and their role in organ functionality) and your body. Discover the powerful nutrient density in organic and sustainably produced foods and discuss the differences between the two. Learn about ways to meet your nutrition prescription on a daily basis with realistic applicable tips and recipe demos from leaders in the Houston Community!
Enthusiasm was the word of the day!
The Anatomy of the Garden : The way food grows can be directly correlated with the function of the human body. From the soil, or our digestive system, to the roots- our vessels. Learn about aerobic vs anaerobic methods of soil composting and the synergy of whole foods.
Beautiful, nourishing greens!
Herbal Medicine Making: What are GMO's, how do they affect us and what is their role in the ecosystem? How can we use food to heal? Discover how powerful knowledge can be in your wellness. Discuss the properties of herbs and the healing qualities of local, unfiltered honey. Make a miel, an herbal honey, to take home and build your immune system during cold and flu season!
This is where I came in. I did a presentation on the benefits of herbs, how to enjoy herbal tea as preventive medicine, and discussed how many healthy and healing herbs can be grown locally.
I was pleased t
here was so much interest in using simple herbs, teas and soups for good health.
Local Lunch: Chef Monica Pope of Sparrow Bar + Cookshop in Houston will discuss flavor blending and the importance of local foods. Taste the difference in sustainably produced foods in the beautiful farm setting. Be a part of farm to table movement by physically harvesting parts of your lunch!
Can't get much fresher than this!
Farm Tour: A perfect break in the day to take in all the sights, sounds and smells of Knopp Branch Farm. Learn about their story, their history, and their commitment to sustainable agriculture and community outreach.
Conscious Omnivore: Learn about traditional eating and consumption of animal proteins with respect and reverence from a snout to tail philosophy. Learn about the impact your diet choices can have on your health and the health of the planet. Discuss the differences between grass-fed vs grain-fed and wild vs farm raised proteins and the role of organs, bone broth, and gelatin in a holistic treatment to disease. Learn about fermenting your own foods and growing your own probiotics for food preservation and immune boosting support. (Even if you are a vegan this tier of curriculum will be of value with the emphasis on food preservation techniques and sustainable consumption)
A fabulous day was had by all. New connections made to our selves and others. Thank you Ali Miller for creating a place for this to happen!